Main event – make your future remote
2020-10-22
Under eftermiddagen den 22a oktober från kl 12-16 får du möjlighet att delta i föreläsningar och workshops från fyra olika länder i världen: Sverige, Nederländerna, Portugal och USA. Regional exportsamverkan har tillsammans med The Remote Lab samlat experter inom olika områden för att ge dig en inblick i dina möjligheter att utveckla ditt bolag och göra affärer – på distans. Distansarbete har under de senaste 12 åren vuxit med 159% i världen och var redan innan Corona-pandemins utbrott en global trend. Häng med på en späckad dag och se hur du kan dra fördelar av att arbeta och utveckla ditt företags distansoberoende arbetssätt!
12.00 – 13.00 LISETTE SUTHERLAND – Collaboration Superpowers
Navigating the new remote normal
COVID-19 sent everyone home to work. And many remote working naysayers saw that when necessary, it was actually possible to work together anywhere. It has, however, been a rough ride as we all discovered that working at home during a pandemic is not the usual way of remote working. But, many of us did it! And in the process, as we smoothed out the bumps, we realized that remote working was not only possible, in some instances, it was preferable. Many offices will not be able to open and operate at full capacity for a long time. At the same time, some people don't want to go back to the office, even when it's safe to do so. Now is the time to set up your remote workforce to succeed – no matter where they work. In this presentation, we will discuss, how can we navigate the new world of working as a hybrid team.
About Lisette:
Lisette is a remote-working German-born American living in the Netherlands who is totally jazzed by the fact that it's possible to work from anywhere. In fact, it's not just possible; it's completely, productively workable—if you do it right.
Lisette has given presentations at a wide range of events, from conferences and Meetups all over the world to a TEDx talk in Kaunas, Lithuania.
Her Work Together Anywhere Workshop is designed to help organisations become "remote first": the ability to work together online when necessary. Participants learn how to align, communicate, collaborate, and have fun online!
The Work Together Anywhere Handbook offers the first complete guide to the best systems and practices for remote workers, managers, and teams of any size.
And her award-winning podcast features interviews with people and companies doing great things remotely.
https://www.collaborationsuperpowers.com/
13.00 – 14.00 MARIA SVENSSON WIKLANDER – The Remote Lab
Den globala trenden kring distansarbete
För många kom hemarbete som en chock under våren, men i världen har trenden kring ett ökat distansarbete varit tydlig under de senaste åren. The Remote Lab lanserades den 24 augusti i år och har under en längre tid tittat på den ökade trenden och vilka förutsättningar som finns hos våra bolag. I en nyligen släppt studie belyser de viljan och attityder till distansarbete hos bolag i Jämtland och Västernorrland men även hos anställda där skillnaden mellan dessa är betydande. Utifrån forskning lotsar Maria genom de senaste årens utveckling till en kik in i framtiden och hur organisationer och medarbetare kan komma att snabbare formas av den sedan länge eskalerande trenden av distansarbete.
Om Maria och The Remote Lab
The Remote Lab är en kunskaps- och utvecklingsnod för framtidens distansoberoende arbetsliv. Visionen är att underlätta för samhället, organisationer och människor i transformationen från normen kring den fysiska arbetsplatsen, till ett distansoberoende förhållningssätt i såväl samhällsutveckling som i organisationsutveckling.
Maria Svensson Wiklander är entreprenör bosatt i Östersund och har under många år startat och drivit företag och organisationer som varit helt digitala. Hon har även coachat ledningsgrupper, skrivit artiklar och föreläst om distansarbete under de senaste 10 åren. Maria är en av sex grundare och delägare till co-workingställena Gomorron Östersund samt The Remote Lab.
14:00 – 15:00 JOB VAN DER VOORT – Remote.com
Why all companies today need global talent
Businesses working remotely right now may not be getting all the benefits they expected. While remote work can be a great advantage for local teams, the best companies today attract top talent by recruiting all over the world. Expanding the talent pool from local to global allows businesses to diversify their team structures and recruit the best candidates for job openings, no matter where those candidates live. In the past, companies could only hire global talent by spending thousands of dollars opening legal entities or hiring traditional employers of record. That dynamic has changed. Now, companies of all sizes and budgets can employ top global talent. In his presentation, Job will share his insights on why employers should embrace global teams and how to hire those teams effectively.
About Job and Remote.com
Remote was founded in early 2019 by Job van der Voort and Marcelo Lebre to simplify how companies employ global talent. Our entire team is working remotely from their chosen location. We don't have any offices and believe that people can do their best work anywhere in the world.
Before founding Remote, Job worked as neuroscientist, and led product of the now-largest distributed company in the world, GitLab. He's the dad of two dogs and one human.
15:00 – 16:00 PER HÅKANSSON – Future swells
Hur man bygger digitala affärer
Majoriteten av alla företag och människor i världen är idag ihopkopplade via Internet. Det betyder att ditt virtuella nätverk numera är viktigare än ditt fysiska. Ett litet smart företag i norra Sverige kan bli globalt från födseln med tillgång till en enorm världsmarknad. Internet känner inga artificiella, geografiska eller mentala gränser.
I detta prat kommer Per Håkansson, digital expert och Silicon Valley-veteran, att prata om hur vi behöver tänka om för att tänka digitalt, hur du kan bygga ditt digital nätverk och hur ett litet lokalt varumärke kan bli stort i hela världen.
Om Per
Per Håkansson fick sitt första jobb på distans hösten 1993. Sen dess har han jobbat med att bygga digitala företag världen över med bara sin laptop och iPhone som verktyg, kontor och mötesplats.
Idag jobbar Per som futurist och experimentell upplevelseforskare inom digitala områden som kryptovalutor, quantified self, remote work, digital nomadism, energi-Internet och mycket mer. Per tror nämligen att vi alla kommer att organisera våra liv via nätet men leva mer lokalt, nära natur och vänner, inom en mycket nära framtid. Idag lever Per i Encinitas, en liten surfby norr om San Diego i vackra Kalifornien och hjälper företag att förstå framtiden.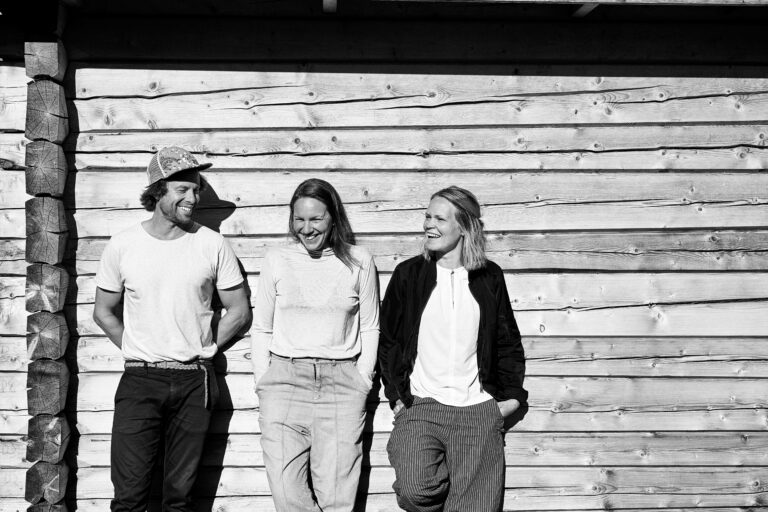 Lisette Sutherland, Job van der Voort, Per Håkansson and Maria Svensson Wiklander